Exhibition of TMSP Finds at 13th Annual City of David Conference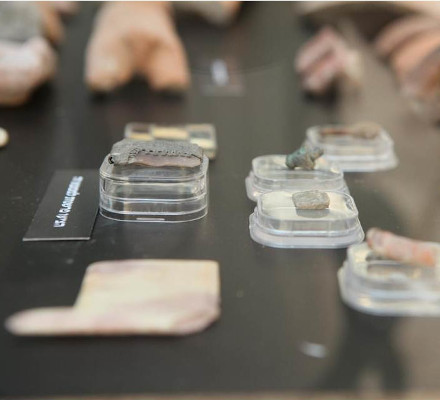 On Thursday evening this week, September 6, 2012, the City of David will be hosting their 13th Annual Research Conference sponsored by the Megalim Institute. The program begins with an open house from 16:00 to 18:30 to give you an opportunity to visit the City of David and see all the newly excavated areas including the Second Temple Period street and water channel from the Siloam Pool up to the Temple Mount. The formal part of the program begins at 18:30. Admission is free and no registration is required, but space is limited.
During the open house from 16:00 to 18:30, the Temple Mount Sifting Project will host an exhibit of finds recovered during the past 7 years of work. The display, in the courtyard just inside the entry gates of the City of David, will include ancient seals and coins, personal items such as hair combs and jewelry, arrowheads, dice and game pieces, clay idols, weights, Herodian architectural elements and paving tiles that were once part of the Temple Mount plaza. This is the first time that these artifacts have been available for public viewing.
Later in the evening as part of the Conference, at about 21:00, we will give a presentation of the Sifting Project's important finds since our last Research Conference report, given in 2007. We will also be updating the public on our ongoing research and our new understandings about the Temple Mount's past.
Please stop by the City of David on Thursday evening to view this amazing exhibit of artifacts that helps tell the history of the Temple Mount.
https://tmsifting.org/en/wp-content/uploads/sites/2/2021/10/artifacts-exhibition-440.jpg
400
440
Zachi Dvira
https://tmsifting.org/en/wp-content/uploads/sites/2/2019/09/compact-for-enfold-1.png
Zachi Dvira
2012-09-04 21:40:44
2021-10-21 07:19:54
Exhibition of TMSP Finds at 13th Annual City of David Conference