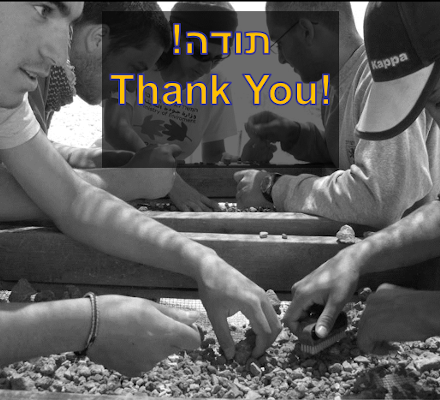 We did it! Thanks to our three benefactors donors who setup the matching fund, and to all our supporters through our crowdfunding website, we've managed to secure our budget for the rest of 2018 and the beginning of 2019. This will allow us to continue the research, complete several research topics and send more articles for publication.
We are thrilled by the support we received from many return donors. This continual support really means a lot and encourages us to keep on going.
We currently employ 12 lab personnel (four of them for full time) and in order to complete the research and publication of all of our categories of finds we will need to hire 30 more researchers for a research project that will extend five years. The end result will be a six thick volumes final report that will include full documentation, analysis, discussion and summaries of the entire corpus of finds with conclusions of the significance of the new archaeological data from the Temple Mount.
The total projected cost of such a research project is about 9M Shekels. The research program and budget was reviewed and approved by a special committee of senior archaeologists appointed by the Israel Antiquities Authority. A letter from the Israel Antiquities director with a recommendation to fund this program was sent to the Prime Minister office about five months ago, but we haven't received any formal announcement or response from the Prime Minister's office or other government offices.
We have no certainty that the promise made a year and a half ago by the Prime Minister or the promises made by other Ministers (the Minister of Culture and Sports, and the Minister of Jerusalem Affairs and Heritage) of supporting the project, will be fulfilled. As time passes the likelihood of this happening decreases, and for this reason we still continue fundraising for the full publication project and resumption of the sifting.
Our next goal is funding the publication of the first three volumes (about $400K). This is a long-term goal that will be raised from private philanthropists, foundations grants, and through our crowdfunding website. Although the main funding comes from the first, we deeply believe in the value (both symbolic and economic) of public participation with the funding of the project.
Many thanks again for all those who supported us during this campaign. We deeply appreciate your partnership, and your involvement in following our websites, sharing our posts and videos and your concern for the project's future.
Zachi Dvira and Dr. Gabriel Barkay
https://tmsifting.org/en/wp-content/uploads/sites/2/2018/08/Thank-you-440.png
400
440
Zachi Dvira
https://tmsifting.org/en/wp-content/uploads/sites/2/2019/09/compact-for-enfold-1.png
Zachi Dvira
2018-08-10 16:29:32
2021-10-19 11:05:26
Thank You!