A Brief Report about Carpets Replacements and the Floors in the Dome of the Rock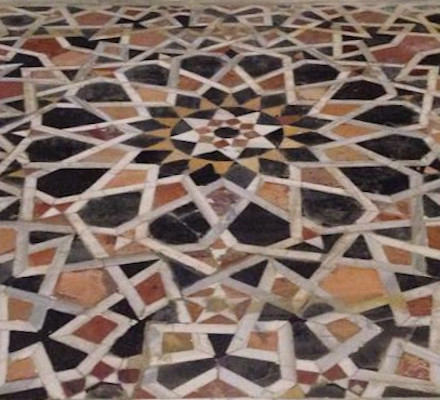 Among the finds from the Sifting Project are hundreds of opus sectile (Latin: "cut work") paving tiles that can be traced to various time periods on the Temple Mount – Herodian/Roman, Byzantine, Early Islamic, Crusader, Later Islamic and Modern. Frankie Snyder, who is the opus sectile specialist for the Sifting Project, is researching various patterns used during this 2,000-year span of time in order to determine precisely which tiles are from which time period and which floor or wall patterns. Her findings will be published in the future. Because of her research, it was extremely disappointing last week that we, and other archaeologists, were denied access to the Dome of the Rock when opus sectile floors in that building were temporarily exposed between the time old carpeting in the building was removed and new carpeting was laid. Being able to document the patterns, materials and quality of workmanship would have been extremely useful in this research. Eventually, some archaeologists from the Israel Antiquities Authority (IAA) were allowed in, but by then, many of the floors were again hidden from view under the new carpeting.
During the brief time that the opus sectile floors were uncovered the shrine was closed to Muslim worshipers and visitors, but some who were present at the work took photographs of certain floors and posted them on several Facebook pages. From these photographs, we have been able to learn some information, but ultimately they create more questions than answers.
https://tmsifting.org/en/wp-content/uploads/sites/2/2021/10/Opus-sectile-floor-on-the-Temple-Mount-440.jpg
400
440
Zachi Dvira
https://tmsifting.org/en/wp-content/uploads/sites/2/2019/09/compact-for-enfold-1.png
Zachi Dvira
2015-04-24 06:35:30
2021-10-20 21:00:05
A Brief Report about Carpets Replacements and the Floors in the Dome of the Rock