Sneak Peak: Christianity on the Temple Mount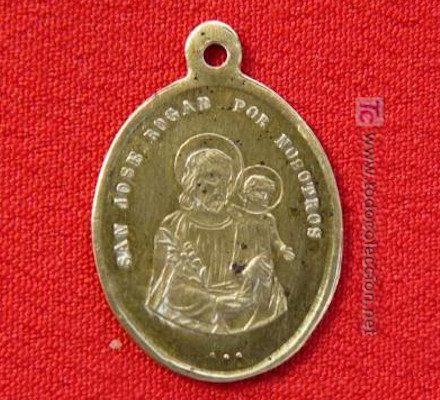 ch Hey Everyone,
We here at the Sifting Project find artifacts from across the rich history of the Temple Mount. We truly are doing our best to research and preserve the history and heritage of everyone associated with the Temple Mount, from Jews to Pagans to Christians and Muslims and all those in between. I know we have recently written a lot about the Jewish connection to the Temple Mount, so today, we are going to focus on another important group with a major connection to the Temple Mount: Christians.
St. Joseph's Day
You may not know this, but March 19th (yesterday) is commonly recognized as St. Joseph's Day! It is widely celebrated by many sects of Christianity across the world and has particular importance in parts of Italy, Malta, Spain, The Philippines, and in New Orleans. In Christianity, St. Joseph was the husband to Mary and the foster-father to Jesus. He is the patron saint of all manner of working people, and he himself was known as a carpenter. He is also the patron saint of pregnant women and unborn children, fathers, travelers, immigrants, and of the dying.
From the Temple Mount
One of the special finds we have uncovered from the Temple Mount is a bronze Catholic medal in Spanish from the 1800's depicting St. Joseph. On one side, it depicts St. Joseph holding an infant Jesus in his right hand and a lily in his left. In Spanish it reads, "S. Jose R.P.N." (Rogad Por Nosotros) meaning St. Joseph pray for us. On the other side, it shows the Holy Spirit as a dove with rays descending to two hearts. In Spanish it reads, "Corazones de Jesu y Maria" meaning Hearts of Jesus and Mary. It also says "Roma" or Rome along the bottom edge. The suspension loop on ours is broken, and unfortunately I cannot show pictures to you all today because it has not been officially published. However, it is almost identical to this one (below) that our researcher discovered on eBay.
St. Joseph holds a special place in Christianity and many places and churches all over the world are named after St. Joseph, including the Spanish form, San Jose, which is the most commonly named place in the world. In popular religious iconography he is associated with lilies (as in our medal) or a spikenard (muskroot). He is typically portrayed as an older man, usually as a marginal figure next to Mary and Jesus. Some statues of Joseph show his staff topped with lily blossoms, and he is often accompanied by carpentry tools.
So from our office to yours, and all the workers out there, have a wonderful day!
https://tmsifting.org/en/wp-content/uploads/sites/2/2017/03/st-joseph-spanish-medal-440.jpg
400
440
Jennifer Greene
https://tmsifting.org/en/wp-content/uploads/sites/2/2019/09/compact-for-enfold-1.png
Jennifer Greene
2017-03-19 12:20:00
2021-10-19 13:46:14
Sneak Peak: Christianity on the Temple Mount