In Response to the Prime Minister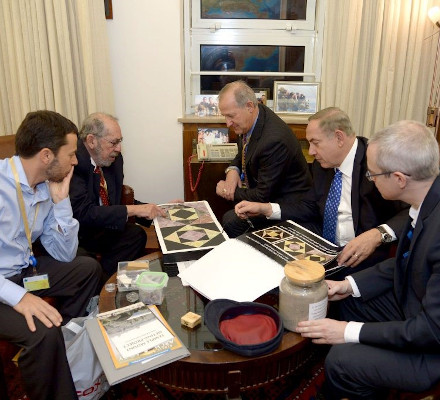 Press Release: A solution has still not been found for resuming the sifting of the Temple Mount soil
Representatives from the Prime Minister's office have contacted us, the directors of the Temple Mount Sifting Project in order to assess the issue of the Temple Mount soil and consider ways to support the research and resumption of the sifting.
We value the Prime Minister's efforts to resolve the issue, and thank the Ir-David foundation for their long collaboration with our project. However, the scientific research is separate from the touristic activity which was, until recently, run by the Ir-David Foundation. The sifting and research are licensed by the Israel Antiquities Authority and directed by Dr. Gabriel Barkay and Zachi Dvira under the auspices Bar-Ilan's University's Institute of Archaeology. The research is funded by the "Israel Archaeology Foundation" which promotes archaeological research. Funding the research of the Temple Mount finds must by managed by an organization whose primary impetus is scientific rather than focused primarily on tourism.
The overlap between the touristic activity and the scientific-archaeological research caused ruptures between the Temple Mount Sifting Project directors and the Ir-David foundation, leading the Ir-David Foundation to halt the funding for the sifting activity two weeks ago. Consequently, we concluded that it is best not to renew the sifting before securing the full funding for the research of the artifacts already found by the project.
Since 2010 we have worked hard at fundraising for the research of the finds. In October 2016, we were pleased to hear of the Prime Minister's wish to support the project, and we met with him four months ago. Since the promised support has not been received or further discussed, our depleting funds forced us to launch our current crowdfunding campaign which we hope will achieve its goal of funding the research of this important material in 2017 while we continue to apply for grants and search for donors who can fully fund our project until the complete publication of our research.
We have not yet received any commitment from the Prime Minister's Office or any other governmental entity regarding any kind of funding for our scientific research, though another future meeting is now being arranged. We are glad to discuss funding solutions which would enable us to continue the research as well as resume sifting the soil in the Emek Zurim National Park or anywhere else.
"We thank the Prime Minister for bringing this important topic into his agenda."
Just a Reminder:
If you want to help, consider donating to our campaign HERE.
https://tmsifting.org/en/wp-content/uploads/sites/2/2017/04/PM-MEETING-440.jpg
400
440
Jennifer Greene
https://tmsifting.org/en/wp-content/uploads/sites/2/2019/09/compact-for-enfold-1.png
Jennifer Greene
2017-04-05 19:27:29
2021-10-19 13:33:32
In Response to the Prime Minister