Meet the Team Mondays: Esther Esquenazi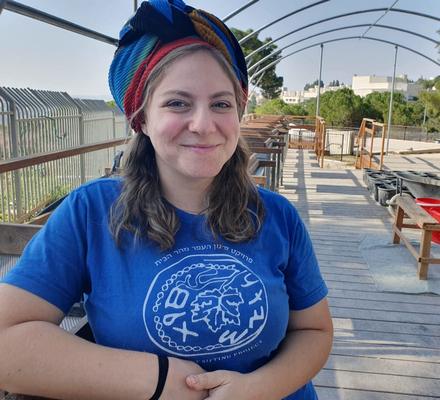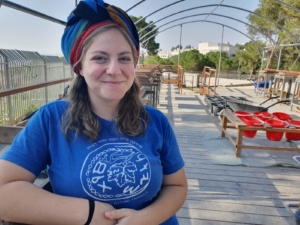 Esther Esquenazi – Esther grew up in Upstate New York, but is more recently from the town Elazar. Esther graduated from Rutgers University with a degree in History, and a minor in Education. In addition to studying public history, Esther extensively researched Native American history, and particularly about how the past informs the present with regards to social, economic, and ecological issues on Native Lands. She is passionate about public history, and finding new and innovative methods of connecting the greater population to history, and building bridges between the past and the present. This passion for informing and interacting with the public, drew her to work with the TMSP.
This interest is well-served on our dig site, as it is the largest public archaeological project in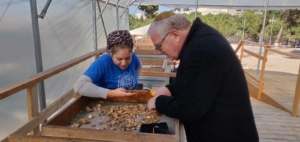 the world. Guiding groups from all over the world, she finds the small artifacts and details that visitors find interesting, to be the most exciting part of the job. In her eyes, the project is important "Because we share, care for, and document the history of the Temple Mount, which is truly important for people across the world." In terms of her work guiding various groups of people, Esther says that she finds that "…the best days are when we have groups that feel they have nothing in common with, or can't contribute to the Temple Mount's history, and they leave more interested, involved, and inspired because of their hands-on experience." Esther utilizes the educational and historical tools as a member of the sifting team, as well as a primary guide at our sifting site, and helps to manage and coordinate visitor reservations. When she's not unearthing antiquities, she's busy baking, her second great passion next to history!
https://tmsifting.org/en/wp-content/uploads/sites/2/2019/12/ester.jpg
400
440
P. Moshe Shamah
https://tmsifting.org/en/wp-content/uploads/sites/2/2019/09/compact-for-enfold-1.png
P. Moshe Shamah
2019-12-30 16:00:15
2021-08-19 10:04:33
Meet the Team Mondays: Esther Esquenazi