So a Congressman, a Senator, and an Archaeologist walk onto the Temple Mount…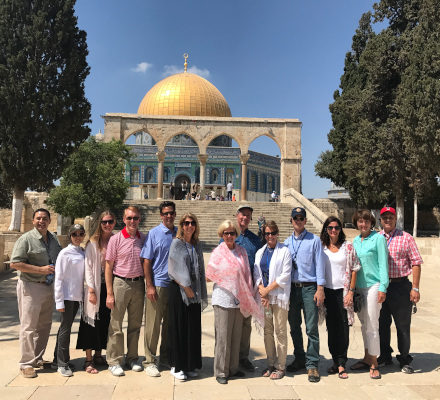 We've been hinting at some big stuff happening in our office. Well two weeks ago we had some very special guests. Dr. Barkay gave a tour of the Temple Mount to five members of the US Congress; Mac Thornberry, Cathy McMorris Rodgers, Henry Cuellar, Tom Graves, Steve Russell, and Oklahoma Senator James Lankford, as well as their families.
The Temple Mount, especially recently, has been at the center of many disputes and violence. Our guests thought that it was important to include the Temple Mount in their trip so that they could get a much better idea of the realities of the situation, and they weren't wrong. Actually seeing the Temple Mount and the people who pray there, the guards, the police, the visitors, and the interactions among them all is a useful tool for better understanding the complexities of today's political situation on the Temple Mount. Additionally, the Temple Mount is beautiful and every building and stone has a rich and fascinating history that makes the site better than some museums for understanding the history of Jerusalem.
We are so grateful to the delegation for choosing to tour with us. They asked really insightful questions and I think that they learned a lot from Dr. Barkay's immense knowledge of history. Unfortunately, at 1:30 in the afternoon, the Temple Mount is only open to visitors for an hour. After going through security, we only had 40 minutes to spend on the Mount itself. Though as Dr. Barkay said, "I could spend weeks here talking about this place," he did a very thorough, though brief, tour of all the major monuments and sites upon the Mount, and best of all, I got it on camera. We now have more videos (to be edited) and added to our Temple Mount Tour series on YouTube. At the end of our Temple Mount Tour, Gaby was asked about our project. Check out his answer!
[youtube https://www.youtube.com/watch?v=pAAY8i_-Dik&w=560&h=315]
Our Job
Part of our job as archaeologists is to make sure that people understand the past. We have a unique ability to share the history of the Temple Mount and will happily share that with anyone who is willing to listen. We are actively working to share our research in order to combat the Temple Denial Movement and make sure that people recognize the Jewish and Christian connection to the Temple Mount and that it isn't ignored or overlooked. Our research can provide the evidence necessary to help people respond to the Temple Denial movement. It is part of our mission to have our scientific research encourage educated discussion on the history of the Temple Mount. We do this through the blog, our YouTube channel, and we hope to be able to publish our research soon.
If you support our mission, please consider donating to help our project continue doing it's important research.
https://tmsifting.org/en/wp-content/uploads/sites/2/2017/09/Group-visit-to-Temple-Mount-440.jpg
400
440
Jennifer Greene
https://tmsifting.org/en/wp-content/uploads/sites/2/2019/09/compact-for-enfold-1.png
Jennifer Greene
2017-09-03 12:12:25
2021-10-19 11:55:02
So a Congressman, a Senator, and an Archaeologist walk onto the Temple Mount…