Find of the Month: A Fragment from a Crusader Capital – John Walker & Timothy Ressler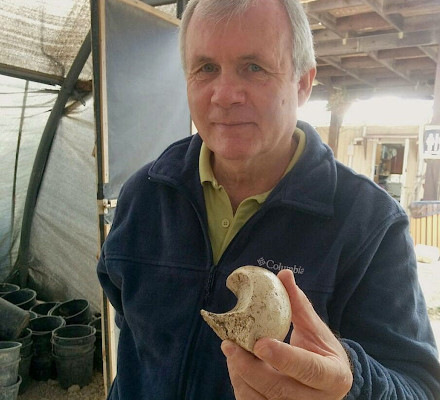 Find of the Month: November!
This month's Find of the Month is this fantastic fragment of a column from the Crusader Period. It was found by volunteers, John Walker and Timothy Ressler, who were visiting from America. Though we have found many fragments of architectural elements over the years, finding a piece as intact and clearly identifiable as this one, is rare. We really appreciate Tim and John's help and the help of all of our volunteers who help us uncover archaeological gems like this one.
Crusader period columns are usually very simple in design, and there are actually columns and pieces of columns from the Crusader period still on the Temple Mount that match this fragment found in our soil. My first question about the artifact was, "Is it from Solomon's Stables?" The answer is that it probably is not from inside the stables, which uses mostly stones from the Herodian period. More likely, the column fragment comes from the Crusader Church or Monastery that was destroyed at the end of the Crusader period when the Muslims retook control over the Temple Mount. It is possible that this fragment is from that initial destruction, but it is also possible that the column it came from was put in secondary use during the Ayyubid or Mamluk period and was broken later on. Either way it is a really interesting look at a time period on the Temple Mount not often discussed.
When I started asking about this fragment, Frankie, our expert in Opus Sectile, but also really knowledgeable about the Temple Mount and the Crusader Period, began describing the layout of the Temple Mount during the Crusader period and what happened afterward. I managed to get it on film, so here is a quick video. I hope you enjoy!
Check out some of our other recent Finds of the Month!
https://tmsifting.org/en/wp-content/uploads/sites/2/2016/11/John-and-the-column-fragment-440.jpg
400
440
Jennifer Greene
https://tmsifting.org/en/wp-content/uploads/sites/2/2019/09/compact-for-enfold-1.png
Jennifer Greene
2016-11-30 14:50:41
2021-10-19 15:23:31
Find of the Month: A Fragment from a Crusader Capital – John Walker & Timothy Ressler