Check out our new video!
[youtube https://www.youtube.com/watch?v=eBXMGa30trQ?rel=0&controls=2&w=560&h=315]
Dear friends,
The story of the Temple Mount is the story of Jerusalem itself. A holy site to the three largest monotheistic religions, it is one of the most concentrated archaeological sites in the world. As you know, our finds here at The Temple Mount Sifting Project constitute the first-ever archaeological data originating from below the Temple Mount's surface. Yet without being able to publish our research, it will be as if our 500,000 artifacts had never been found. Our research has the ability to challenge theories, clarify understandings, and present the factual data about the Temple Mount. We can undermine the Temple Denial Movement: but only if our facts and research are shared with the scientific community and the public.
Our mission is to publish at least 3 volumes of our research on the Temple Mount history, special finds, coins, and pottery in 2018. We want our scientific research to encourage educated discussion on the history of the Temple Mount.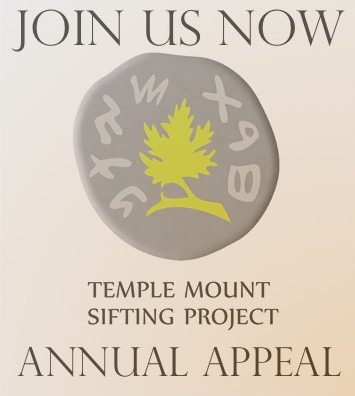 As 2017 approaches, we are faced with the reality of needing financial support to continue our research in the lab. With your help, our Annual Appeal will allow us to enter 2017 knowing that our focus can remain on our research and not on ways to raise money or cut the budget to keep the lights on. Our first goal is to fund the core research needed to fill the pages of our upcoming publication on the project, coins, and pottery. Once we've accomplished this task, our goal is to secure the minimum budget needed to keep our lab doors open.
This is the lab that gave you the reconstructed patterns of King Herod's Temple Mount Courts, articles on figurines, Temple Denial, and other important research. Join our mission and help us progress with our research. Donate today and share this campaign with your friends and family because everyone should have the opportunity to support such an important project.
Thank you for your support. This project can not be completed without you.
Seasons greetings and much gratitude,
Dr. Gaby Barkay, Zachi Dvira, and the staff of the Temple Mount Sifting Project
https://tmsifting.org/en/wp-content/uploads/sites/2/2016/12/TMSP-annual-appeal-440.jpg
400
440
Jennifer Greene
https://tmsifting.org/en/wp-content/uploads/sites/2/2019/09/compact-for-enfold-1.png
Jennifer Greene
2016-12-07 19:02:07
2022-01-30 16:56:23
Annual Appeal