Find of the Month: Mother of Pearl Bead and Inlay – Eitan & Amichai Strik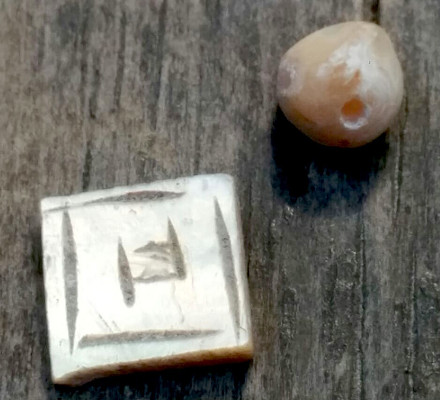 No grit no pearl
This month's find of the month is actually two finds! With a bit of hard work, determination, and a little luck, two brothers found pearl artifacts on the same day while sifting with us at Emek Tzurim. What a lucky family.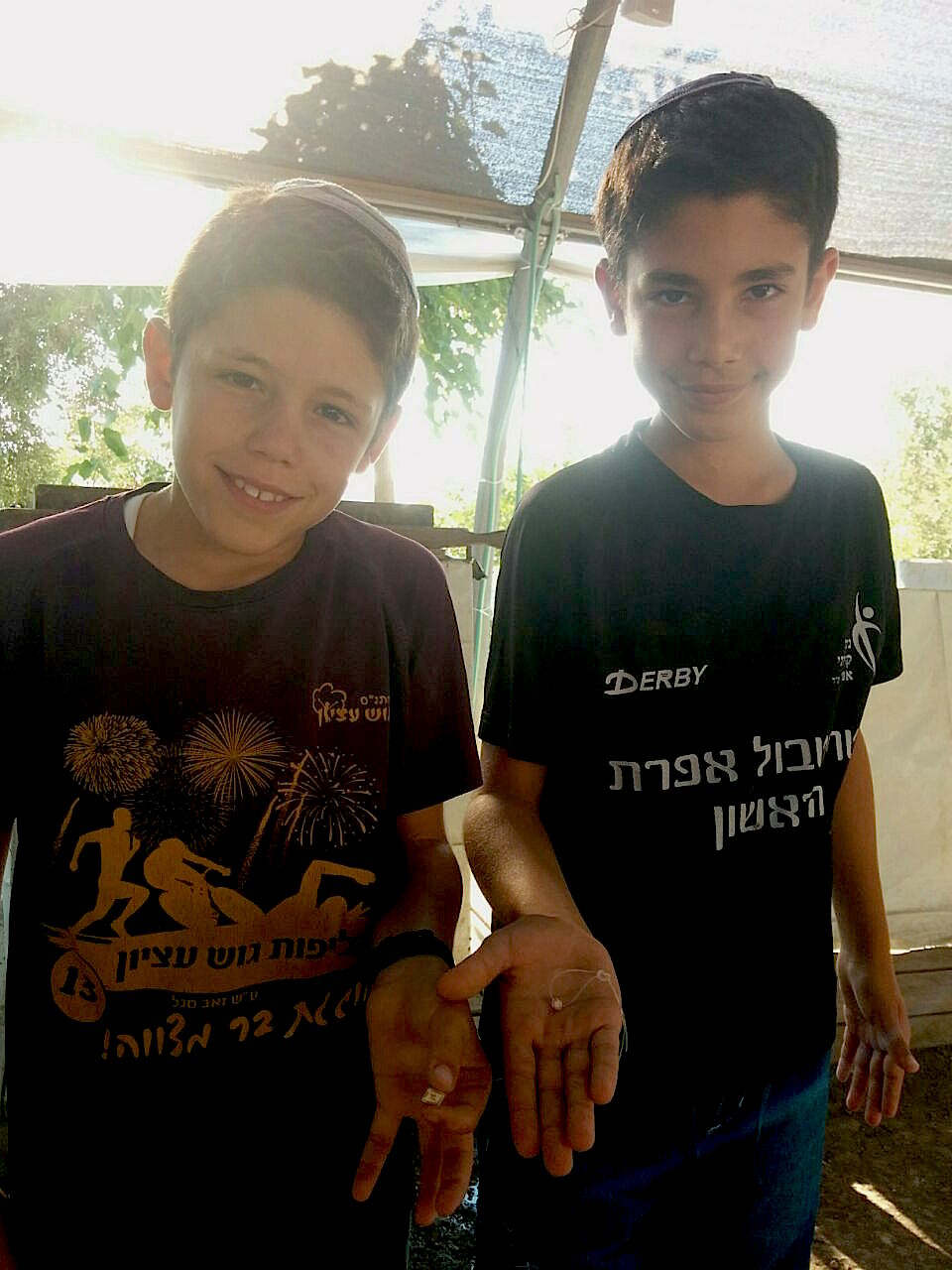 Eitan and Amichai Strik from Israel came to the sifting project with their family over the school summer holiday and really enjoyed their time with us. People often ask us how to pick a "good" bucket. I personally don't have an answer to this question, but clearly we should all be asking the Strick family for bucket picking tips.
Amichai found a mother of pearl bead while his younger brother Eitan found a beautiful mother of pearl inlay. We have not yet dated either item as dating pearl is very hard to do when the item is out of context. Jewelry trends cycle, so trying to date these items by comparing them to similar items found in other excavations is also complicated.
Mother of pearl is the common name for iridescent nacre, which is a combination of minerals that is secreted by oysters and other mollusks and deposited inside their shells, coating and protecting them. Nacre is the same material that is deposited around a tiny particle lodged in a mollusk that builds and eventually becomes a pearl.
Most of the mother of pearl found by the Temple Mount Sifting Project was imported from the Nile River. We have a lot of pieces that are considered industrial waste from inlay projects, but also a lot of natural pieces left over from the food consumption of Byzantine monks who had a love of clams. Finding mother of pearl beads or actual pearl inlay is rare in our sifting. We have some inlay that are from the Dome of the Rock and were removed with the gilded glass mosaic tesserae that were installed there during the shrine's construction in the late 7th century CE. Here are some of the other pieces we have found.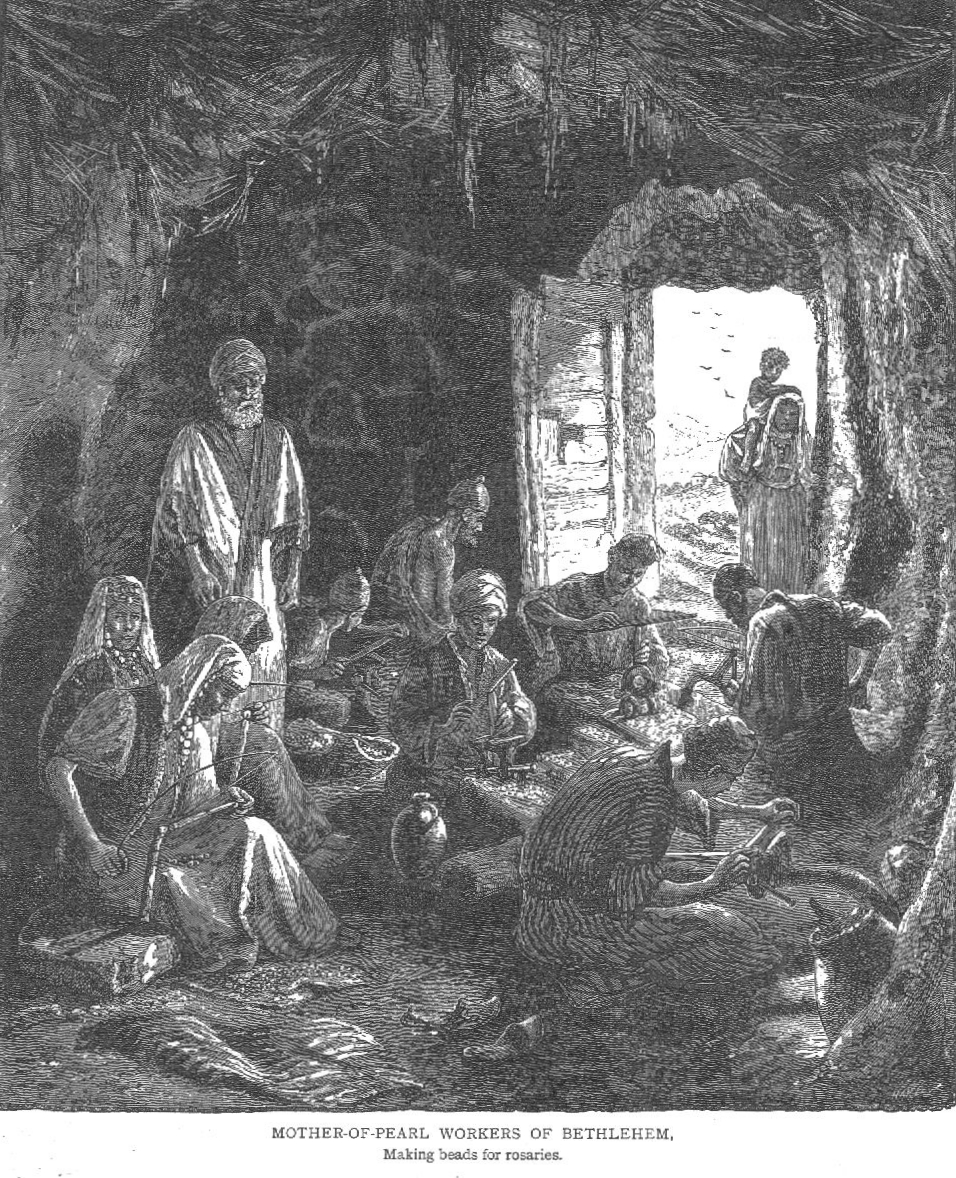 Mother of pearl has been used for centuries. In Israel, mother of pearl inlays became common after the Late Second Temple period. The Book of Esther (1:6) describes the floors of Achashverosh as made of precious stones, marble, and mother of pearl. The book, Picturesque Palestine (1881), in describing and illustrating the tours of Harry Fenn and J.D. Woodward, show the mother of pearl workers of Bethlehem (right). This was part of the bustling trade with pilgrims in Bethlehem, especially around the holidays of Christmas and Easter. The most popular items for sale were rosaries, some of which included mother of pearl beads, as well as pearly scoops made from the shells of the giant oysters of the Red Sea and brought to Bethlehem from Suez, which were loved by English visitors. Other items for sale to pilgrims in Bethlehem included relics, palm-boughs, scallop shells, crosses, and little images.
Today, wood inlay with mother of pearl is popular on guitars and other stringed instruments. In jewelry, pearls and mother of pearl are in two different categories. Pearls are more rare, and are rounded gems that can only grow to a certain size. Alternatively, mother of pearl is much more common (though not found coating all mollusks). Because the nacre coats the entire inside of a shell, it also provides much more material to work with.
Today, due to awareness of unsustainable pearl-farming techniques, pearls and mother of pearl are not as widely used and much of the jewelry and inlay on the market is antique or vintage. Some companies are working on initiating more ecologically sustainable ways of collecting their material, so perhaps this beautiful substance will gain again in popularity in the near future.
For more information on pearls today, click here.
Finally, a little pearl wisdom: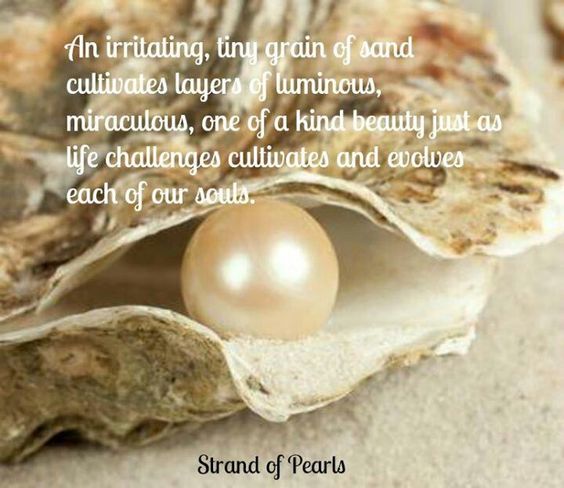 https://tmsifting.org/en/wp-content/uploads/sites/2/2021/10/pearl-bead-and-square-mother-of-pearl-inlay-both-found-on-the-same-day-440.jpg
400
440
Jennifer Greene
https://tmsifting.org/en/wp-content/uploads/sites/2/2019/09/compact-for-enfold-1.png
Jennifer Greene
2016-08-26 23:08:00
2021-10-20 17:55:13
Find of the Month: Mother of Pearl Bead and Inlay – Eitan & Amichai Strik