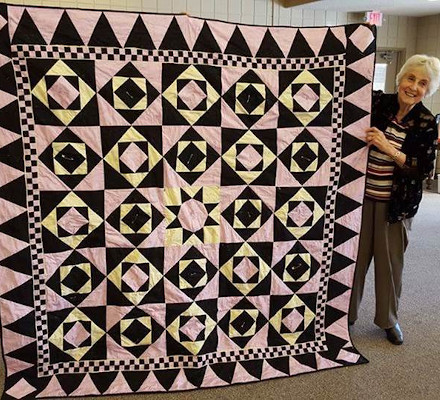 We love it when we inspire our supporters. We just got an email from Nancy in Washington who is a subscriber to the Biblical Archaeology Review. She said, "We have subscribed to BAR for many years! Imagine my surprise when my husband handed me the latest issue turned to page 58 and said "I have an idea for a quilt for you." He was reading the article about the Temple Mount Floor tiles. There were three patterns used over and over again. I incorporated the 3 squares plus Herod's Triangles around the edge. I made it to scale and used the colors found in the floor rubble from the Temple Mount in Jerusalem."
We are amazed at the detail and beautiful work that went into this quilt. As Frankie put it, Nancy "did an an amazing job of capturing the essence of Herod's beautiful opus sectile floors."
What is really interesting is how similar the quilt is to the floor created for the Israel Museum's exhibit, "Herod the Great: The King's Final Journey" that was on display in 2013. The museum display was created from tiles that were found at Herodium, where Herod was buried, and from Cypros, a small Herodian palace on the ridge-line above Jericho. Plaster replica tiles were then used to fill in the blank spaces.
Though the museum floor was not created from Temple Mount patterns or pieces, Nancy's quilt is amazingly similar to the museum display! This shows how Herod used similar patterns and materials at these locations. This is how Frankie was able to use what she learned from Herodian, Banias, Cypros, Jericho, Masada and other patterns from the Roman world to reconstruct the patterns of the Temple Mount based on the pieces that were found in the sifting.
We are truly touched when we inspire our supporters. Please let us know if we've inspired you! Send us pictures and stories! Also, a special thanks goes out to Nancy for sharing her quilt with us. It is truly a work of art.
https://tmsifting.org/en/wp-content/uploads/sites/2/2016/12/Herods-quilt-440.jpeg
400
440
Jennifer Greene
https://tmsifting.org/en/wp-content/uploads/sites/2/2019/09/compact-for-enfold-1.png
Jennifer Greene
2016-12-04 14:50:09
2021-10-19 15:21:45
Inspiring Supporters