Isn't it nice to feel validated?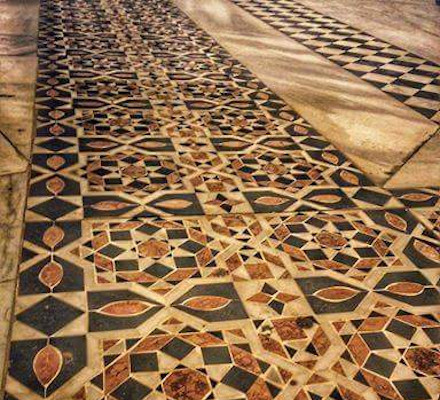 New Images from the Dome of the Rock
Frankie Snyder is our expert in floors among other things (my shameless plug of the day). She wanted to let you all know that last week, the renovation work that had been in progress for several years on the interior of the Dome of the Rock was completed! As a result, the construction barrier that encircled the central arcade was finally removed. This then enabled the carpet replacement begun in April of 2015 with the outer and inner ambulatories to be carried out on the central arcade.
As the old carpeting on the floor of the central arcade was removed, beautiful opus sectile floor panels were revealed, and workers inside the Dome of the Rock shared many photographs of these floor panels on social media. In a post on the Temple Mount Sifting Project's website on December 22, 2015, we reported that portions of these floors could be dated to the Crusader period. We are pretty sure that part of the original Crusader floor was removed in a later period and replaced with new designs.

Floors uncovered at the Dome of the Rock validate our research on original crusader floors on the Temple Mount
Last week's photographs give us some amazing views of these rarely published floors that provide us with information previously unavailable to us.
We now have a more complete understanding of the extent of the floor panels. Frankie knew that the main floor panel extended farther to the north and south than what our original picture showed, but did not know the pattern sequence.  Also she only knew a fraction of what the small panel to the north of the main panel looked like. Her assumption was that it was like the small panel to the south of the main panel, but was not sure. Well, photographic evidence proves that she was right!
So what's next?
The floors of the Dome of the Rock have been renovated/reconstructed in the past — more than once.  We need to learn the complete history of what was originally there, what was removed and when, what was replaced and when, and what was renovated and when.  We may never get the full story, especially as to what the original floor panels looked like, but we can surely try. Check out our previous post about these Crusader Floors and an article by Israel HaYom talking about this research. Here is more information about the renovations at the Dome of the Rock.
https://tmsifting.org/en/wp-content/uploads/sites/2/2021/10/Crusader-geometric-floor-patterns-440.jpg
400
440
Jennifer Greene
https://tmsifting.org/en/wp-content/uploads/sites/2/2019/09/compact-for-enfold-1.png
Jennifer Greene
2016-06-29 13:31:37
2022-07-28 13:16:47
Isn't it nice to feel validated?