Jennifer Greene: Staff Spotlight: September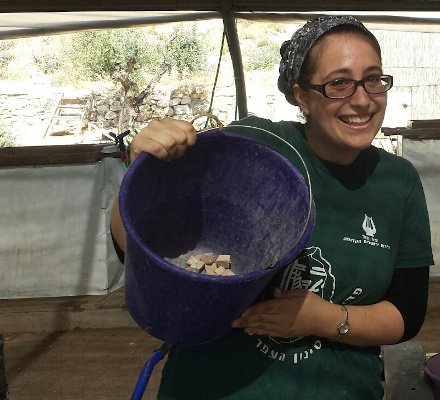 It's Awkward to Talk About Myself
It has been requested that I make the Staff Spotlight for September about myself so that you lovely people who follow our blog can learn more about the voice behind the most recent posts.
So, hi everyone! My name is Jenn Greene. I am originally from Connecticut in the USA. I got my BA in Archaeology from Boston University and my MA from University College London in Managing Archaeological Sites. My dissertation was about the creation of heritage walking trails in historic cities.
I got interested in archaeology when I was in high school. I took a summer course at Cornell University and had a project translating ancient Mayan door lintels. My roommate came in at one point and asked me if I wanted to get some food. I responded, "Sure! I'm starving! Let's get some lunch." She said, "Jenn, it's dinner time." I had been working nonstop for 9 hours without even realizing it. That is when I decided that I should probably do this for a living.
I also love creating educational materials for archaeological sites. I think that too many sites rely too heavily on having a good tour guide. I think that it is imperative for sites to have information available to visitors that can explain what they are looking at and why it is important. I trained in the education department at the Museum of Fine Arts in Boston, and I have worked at Khirbet Qeiyafa in Israel and the Billingsgate Roman Bathhouse in London. I made aliyah last September and was actually really nervous about finding a job here in Israel. Though there is a lot of archaeology here, the network of archaeologists is rather small. Yet the Sifting Project took a chance on me and I couldn't be happier.
I spend my time here in the research lab writing to all of you people and working to secure grants and donations so that we can publish all of our research. If you're interested in donating, you can click here or check out our crowdfunding page here. Follow us on Facebook! Twitter! (Seriously, I had to learn how twitter worked. Apparently I am bad at being a millennial). Sick of my desk chair, I am on site at Emek Tzurim sifting with our volunteers twice a week. I love hearing everyone's stories and introducing them to the project.
I love writing the Staff Spotlight segments because I get to share with you the wonderful people I get to work with every day. The staff of the Sifting Project is what makes this job so wonderful. Welcoming, patient with my lack of Hebrew, friendly, knowledgeable, and genuinely interested in the welfare of our visitors, staff, and artifacts, the staff of the Sifting Project is a family and I am blessed to be one of them.
My favorite memories from the past few months of work are either those where I ran into people I knew randomly on site while I was working, or our special staff tiyul (trip) where I got to learn about the archaeology of Jerusalem from the experts (see some pictures below). It was incredible. We saw excavations in progress, had special access to areas not open to the public, and spoke with the site directors. Zachi and Gaby also taught us about different sites and it was really interesting to see some of the top archaeologists debating methodology and interpretation. I felt like I was right in the middle of these debates that are so hot in archaeology right now.
Of course, there is also the archaeology. Daily on site I find bits of pottery, glass, and other special items. I still feel a thrill every time I find a mosaic tesserae (tile) even though there is at least one in most buckets. In the lab I get to handle our special finds, search our shelves of boxed artifacts and comb through our photo galleries of amazing pieces of our past.
My favorite thing I've found is a Roman die. It is TINY! About the size of my pinky nail and absolutely perfect, it is one of maybe 15 we've found in the past 12 years. Bone and ivory dice were very common in the Roman period. It is really interesting that Jewish law from that time actually disqualifies as a legal witness any person who plays with dice (Mishnah Sanhedrin 24b). The Sifting Project actually found a cheater's die in 2010.
It has 6 sides but only the numbers 2, 4, or 6. Any way you look at it, you see a 2, 4, or 6 so that it looks normal if you don't inspect it carefully. It is perhaps because of things like this within the vice of gambling that the Mishnah makes such a strong statement about those who gamble.
My tip to sifters is this: when you pick a bucket, twist the handle back and forth so that the water and earth swirls along the bottom of the bucket. This loosens the earth and makes the material come out much more easily. It is then easier to clean the bucket and make sure that we're not losing any artifacts stuck to the bottom. This took me 2 months to figure out. You're welcome.
Have a great day, and make sure to subscribe to our blog so that you can get all the updates about what we're doing and what we're finding. It also makes me look good in front of my boss ;).
https://tmsifting.org/en/wp-content/uploads/sites/2/2021/10/Jennifer-with-mosaic-stones-in-a-bucket-440.jpg
400
440
Jennifer Greene
https://tmsifting.org/en/wp-content/uploads/sites/2/2019/09/compact-for-enfold-1.png
Jennifer Greene
2016-09-22 11:36:24
2021-10-20 17:36:41
Jennifer Greene: Staff Spotlight: September