Find of the Month: Dome of The Rock Inlay on Pearl – Hadassa Amiri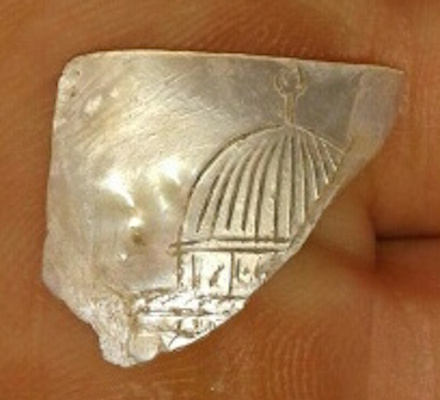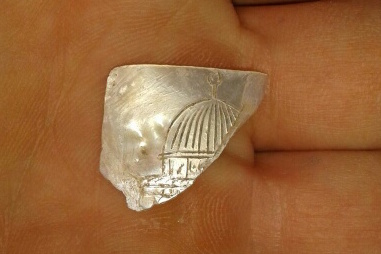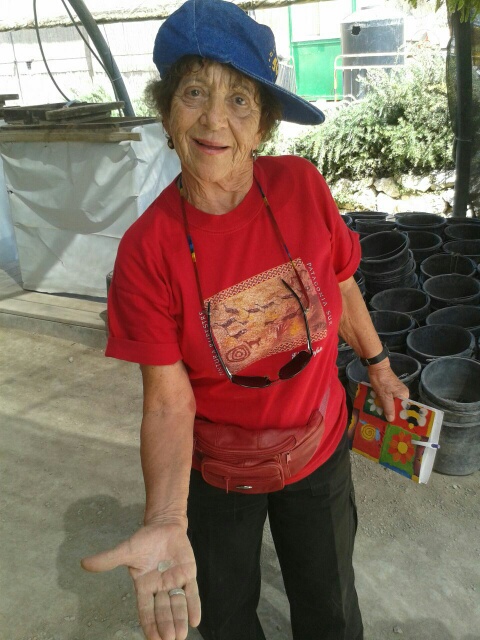 September's "Find of the Month" is this gorgeous mother of pearl inlay with an image of the Dome of the Rock carved onto it. It was found by Hadassa Amiri, age (a lady never reveals her age!). For more information on Mother of Pearl and archaeology, see this post. Most likely, this inlay was attached to some small object, such as an inlaid box or prayer book. Generally speaking, walls and furniture with mother of pearl inlay do not use engraved inlay like this. Engraving is reserved for smaller objects where there is a larger focus on the particulars of a small piece of mother of pearl.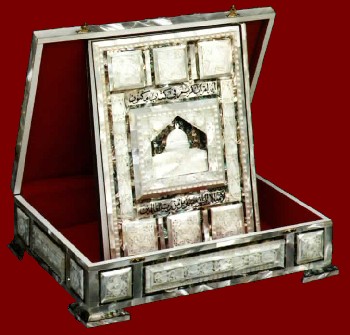 Interestingly, when I started searching for a parallel object that would help us date this artifact, the search "pearl Quran" immediately came up with this image. The Dome of the Rock is clearly a standard and traditional image to depict on religious artifacts. Islam frowns upon the use of human images and generally speaking, Islamic art and architecture use natural and geometric designs.
The Dome of the Rock (Qubbat al-Sakhra in arabic) is an iconic symbol of Jerusalem and has an important place in Arab and Muslim culture. Built between 685 and 691/2 by Abd al-Malik, probably the most important Umayyad caliph, the Dome of the Rock was one of the first Islamic buildings ever constructed and is one of the earliest surviving buildings of the entire Islamic world. Though it is commonly thought of as a mosque, the Dome of the Rock is actually a shrine built around a large rock believed to be the place from which Muhammad ascended to heaven, met other prophets such as Jesus and Moses, witnessed heaven and hell, and saw G-d. In Judeo/Christian tradition, this rock is the place where Abraham was to sacrifice his son Isaac.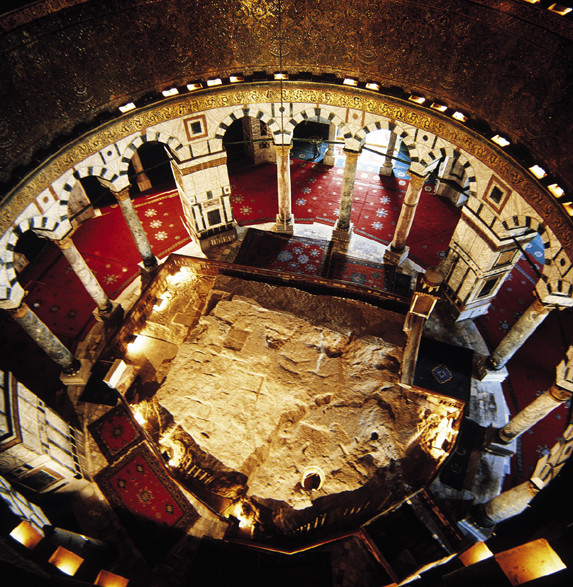 The Dome of the Rock sits on a platform known as the Temple Mount or Haram al-Sharif. This platform is holy for Jews, Christians, and Muslims alike. It was the site of the First and Second Jewish Temples, the headquarters of the Knights Templar during the Crusades, and today houses the Al-Aqsa mosque, madrasas, and several other religious buildings as well as the Dome of the Rock. Please read this essay detailing the history and iconography of the Dome of the Rock by Dr. Elizabeth Macaulay-Lewis for more information.
The Dome of the Rock is an important part of the long history of the Temple Mount and pieces of gilded mosaics and glass window fragments discarded during numerous renovations consistently show up in our sifting. The Dome of the Rock is a testament to the Islamic Golden Age and the Muslim connection to Jerusalem and the Temple Mount. It is an indisputable part of Islamic heritage, and therefore comes through in the iconography on such things as a small engraving on mother of pearl.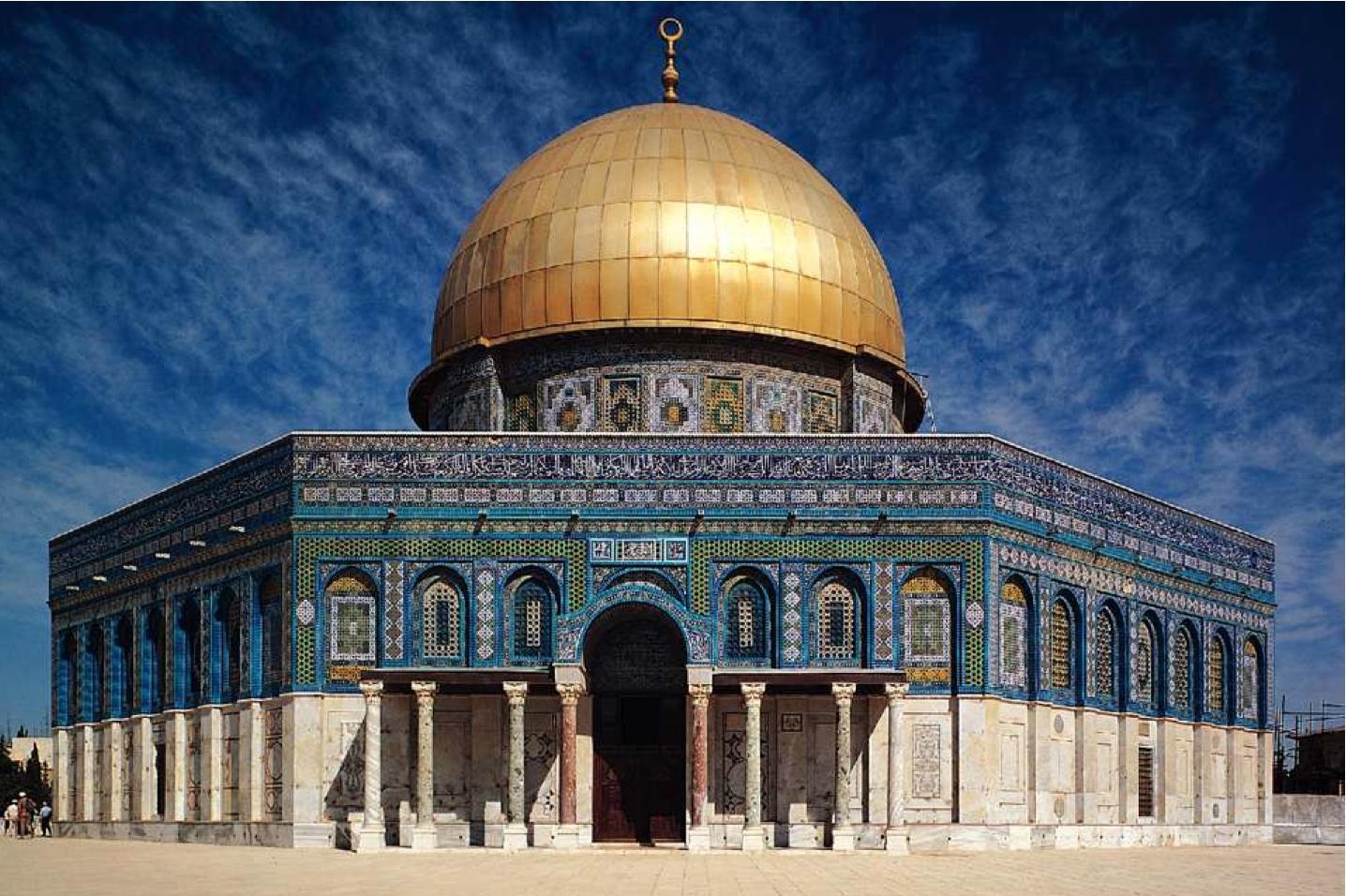 The Dome of the Rock is a building of extraordinary beauty, solidity, elegance, and singularity of shape… Both outside and inside, the decoration is so magnificent and the workmanship so surpassing as to defy description. The greater part is covered with gold so that the eyes of one who gazes on its beauties are dazzled by its brilliance, now glowing like a mass of light, now flashing like lightning.
—Ibn Battuta (14th century travel writer)
https://tmsifting.org/en/wp-content/uploads/sites/2/2021/10/Dome-of-the-Rock-on-Mother-of-Pearl-Inlay-440.jpg
400
440
Jennifer Greene
https://tmsifting.org/en/wp-content/uploads/sites/2/2019/09/compact-for-enfold-1.png
Jennifer Greene
2016-09-29 13:15:58
2021-10-20 17:29:14
Find of the Month: Dome of The Rock Inlay on Pearl – Hadassa Amiri