New Year for the Trees, New Life for Ancient Forgotten Beams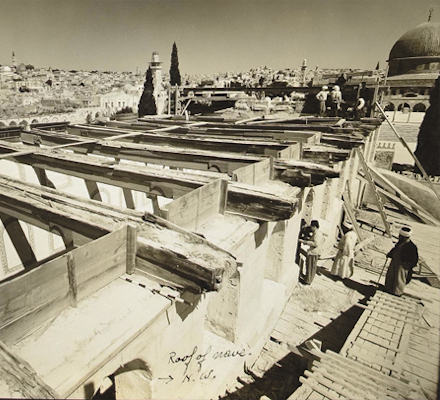 Happy Tu B'Shevat! Today is the Jewish new year for the trees which is celebrated annually on the 15th day of the Hebrew month of Shevat. Customs vary, but many Jews will eat a new fruit they haven't tried before or eat one (or all!) of the seven species described as plentiful in the land of Israel (wheat, barley, grapes (vines), figs, pomegranates, olives, and dates (honey) (Deut. 8:8)). Growing up in America, my family often sent money to plant trees in Israel through our synagogue and I'm pretty sure we read, "The Lorax" every year as well.
To celebrate this fun holiday with all of you, we at the Sifting Project thought we would share with you some interesting research about wooden beams found on the Temple Mount.
The Ancient Beams of the Temple Mount
The Al-Aqsa Mosque has been renovated a number of times throughout its history. Notably, after a massive earthquake caused major structural damage to the mosque in 1937, a lot of work was done to strengthen the building, and a number of wooden beams were removed, many of which are now in the Rockefeller Museum in East Jerusalem. In the 1970s, more wooden beams were removed from the Temple Mount and some were sold to a merchant in Ramallah. Some Israelis actually purchased these beams and sent them for Carbon 14 and dendrochronological (tree ring) dating at the Weizmann Institute. Most of the beams were found to be from cypress trees or cedar trees from Lebanon and some were oak from Turkey. While the vast majority of tested beams dated to the Byzantine period (6th century CE), some of the beams date much earlier. There are two beams in particular that date to the First Temple Period, one of cypress dating to around the 7th century BCE, and one of oak dating to around the 10th century BCE according to the C14 tests.
So how did these early beams end up in the Al-Aqsa Mosque? Wood was expensive in ancient times, so builders would use what was available to them. Many of the beams measured over 14 meters and were made well and of strong wood. Consequently, they were used over and over again. One of the beams from the Al Aqsa Mosque carbon dates to the early Hellenistic period but also has a Greek inscription from the Byzantine period. It seems this beam was in at least tertiary use in the mosque, and we are grateful that this reuse of material preserved it for us to study now.
The beams offer a fascinating historical record of Jerusalem, including Byzantine buildings, early Muslim houses of prayer and, not inconceivably, the ancient temple complex itself. Unfortunately, the several hundred existing beams have never been studied in depth, and many are in danger of decay and disintegration.
Destruction through Negligence?
We have witnessed first hand how beams remain open to the elements on the Temple Mount without any cover or protection. Though Jerusalem may have hot and dry summers, the climate is not conducive to the preservation of wooden artifacts. These beams are pretty unique because they were so well preserved due to the fact that they were sheltered within the Al-Aqsa Mosque for so much of their history. The fact that such negligence is being practiced and that these beams are not being preserved is truly unfortunate. Our researcher, Peretz Reuven, is doing his PhD on all of the known beams, and upon closer inspection of the uncovered beams on the Temple Mount, he saw carvings and markings on one of the beams that show correlation to Roman motifs and styles. You can see carved leaves, pomegranates, and even a rope pattern widely appearing in 2nd and 3rd century CE monuments. This beam is most likely a late Roman period relic from one of the monumental buildings of Roman Jerusalem.
Needless to say, much more research is needed on the beams from the Temple Mount. We at the Sifting Project can do our small part on the small wooden beam fragments covered with bits of gold-colored paint, but the more comprehensive research will have to include all of the full length beams that can be accessed by researchers. Our research will be presented in volume four of our planned publication, and we can't wait to see what Peretz uncovers while completing his PhD.
For more information about these beams see:
Biblical Archaeology Review Here or Here
Video of Gaby explaining starting at 2:30
https://tmsifting.org/en/wp-content/uploads/sites/2/2018/01/iaa-photo-440.jpg
400
440
Jennifer Greene
https://tmsifting.org/en/wp-content/uploads/sites/2/2019/09/compact-for-enfold-1.png
Jennifer Greene
2018-01-31 13:13:19
2021-10-19 11:42:21
New Year for the Trees, New Life for Ancient Forgotten Beams