More Archaeological Destruction on the Temple Mount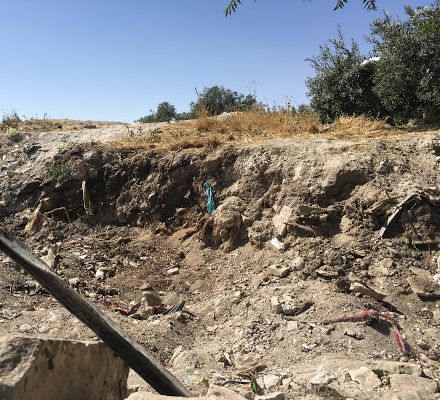 More Archaeological Destruction on the Temple Mount and Damage to Dirt that should be Sifted in the Temple Mount Sifting Project was Disturbed
A very serious incident occurred in the last few days on the Temple Mount. In the eastern part of the Temple Mount, there are mounds of earth from various illegal excavations carried out by the Waqf on the Temple Mount in the early 2000s. This is the latest of many attempts to remove this earth. The Waqf attempted to remove the mounds from the Temple Mount in 2004, in coordination with the police and Israel Antiquities Authority, but without supervision. Fortunately this attempt was forestalled by a petition to the High Court of Justice filed by Committee for the Prevention of Destruction of Antiquities on the Temple Mount. The court ruled that the earth can only be removed under archaeological supervision and with coordination with the Committee.
It should also be noted that according to an internal report written by the Israel Antiquities Authority in 2016, the excavation permit, given to us allowing us to sift the earth that was removed from the Temple Mount at the end of 1999 and at the beginning of 2004, also applies to these mounds that were just disturbed.
A controlled removal of these mounds would enable extrapolation of the separate sources of the debris from which these mounds are composed. Such a dig could provide us with much more accurate information than we currently have in studying the findings from sifting the soil that was dumped into the Kidron Valley in 1999. The information that could emerge from sifting these mounds would complement the information we currently possess and would enable us to draw a clearer, larger picture.
For years, the Israeli Police have had some success in preventing work in these mounds of soil and debris. In 2013 there was an attempt to remove them by truck and tractor on the false grounds that only park waste was removed, but thanks to the media, we were able to stop the works.
Now, during the last days of the month of Ramadan, when the Temple Mount is closed to non-Muslim visitors and police presence is limited, over a thousand people carried out excavation work, stone clearance, and the creation of terraces in these piles of earth!
This is a clear violation of the High Court's order. This constitutes a decade's worth of regression in the level of enforcement of the antiquities law on the Temple Mount.
The changes in the earth mounds will disrupt the ability to separate the sources of the debris during their eventual removal and archaeological excavation. Furthermore, during the course of such a manual excavation as just occurred, many archeological artifacts are routinely discovered. It is highly doubtful that any such items will reach the hands of archaeologists.
* Please share this information and communicate it to the media and government officials. This is important and needs to go viral.
See Video:
https://tmsifting.org/en/wp-content/uploads/sites/2/2018/06/Mound-of-dumped-Temple-Mount-soil-440.jpg
400
440
Zachi Dvira
https://tmsifting.org/en/wp-content/uploads/sites/2/2019/09/compact-for-enfold-1.png
Zachi Dvira
2018-06-14 15:51:30
2021-10-19 11:17:44
More Archaeological Destruction on the Temple Mount