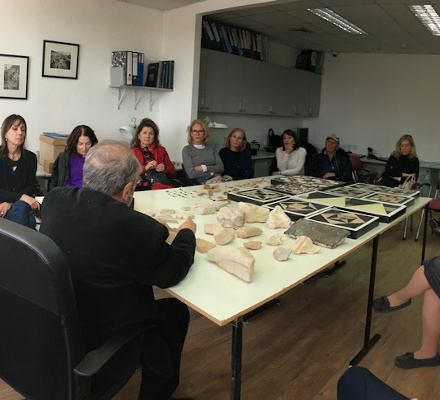 Visit Us!
Come visit us in our research lab! We miss you! For our supporters, we are offering tours of our research laboratory where you can see all of our special finds and learn about them from one of our expert archaeologists. It is one of the gifts on our crowdfunding page at www.half-shekel.org .
These tours are our way of saying thank you to our supporters. For these gifts, the donation collected goes to support our project's research and the process of resuming the sifting itself. Not only is it a great experience for you and your family, but it is an enormous help to our project. You help us to preserve the heritage of Jerusalem's past. You help to ensure that facts, reality, and the heritage of all people who are connected to the Temple Mount is protected and published. You help us uncover facts that will hopefully lead to educated discussion about this most important heritage site: The Temple Mount
Also…we miss you!
Without the sifting of new material, we are focusing more than ever on our research in the research lab. While we have been getting a lot done, I must say that we do miss showing off our amazing material to visitors. There is something amazing about seeing a child's face light up when he holds a piece of pottery from 3000 years ago. It is a reminder of how simple joy can be sometimes and how we should always look at the world with awe and wonder.
Recently, we've had a number of visitors come to our research lab and it has been an absolute pleasure to show these people the exciting things we have been doing and the amazing artifacts that we now know more about than ever before.
On site, it was special to do a summary at the end of the sifting to show everyone what they had found. Sometimes though, depending on what was found that day, it could be challenging. It's great to say "look! You found a piece of pottery!" but it is equally if not more important to be able to show why we care about that piece of pottery. Here at the lab, we can really tell the whole story of the Temple Mount. We can show you what the Temple would have looked at from the floor tiles to the decorated column tops. We can show you the daily life of people from the weapons they fought with, to the cooking pots they cooked with, to the dice they played with and really paint a picture of what a person's life was like, and how that changed from period to period. We can show you how materials changed over time and how we can really see the differences in style or material as one period moved into the next. We can show you the symbolism on coins that have been professionally cleaned so that you can actually read the words "For the Freedom of Zion" and not just wonder what is underneath that lump of green metal. Here at the lab, we have almost an interactive museum of amazing artifacts that we can show you, and many of which you can touch and feel for yourself.
Not only that, but we have the experts here who are working on their research as we speak. I was here the other day as Frankie figured out how one of her triangles was made using only a compass and a string. It was a literal Eureka moment, and here at the lab she can tell our visitors her research up to the minute. We can share with you theories that aren't quite ready for print, and we can show you the things we've only just discovered as meaningful in our storage boxes, such as two rare pieces of pottery that we discovered actually fit together and are from the same vessel. The lab is an exciting place to be, and we are so lucky to be able to share that with our visitors.
We actually have a renovated space now where we can comfortably fit groups, and we are having more and more groups come to us and learn first hand about the amazing history of the Temple Mount. Unfortunately, it is still a place of work, so groups have to be specially organized to ensure that a tour doesn't disrupt an entire day's work. This also means that these tours are a bit more exclusive than the sifting site was. Tours of our research lab are guided by one of our senior staff members to donors on our crowd-funding site at www.half-shekel.org. Tours are 1.5-2 hours and we can now accommodate up to fifteen adults. We would love to have You come and visit us. Be in touch and email development@tmsifting.org for more information or to schedule your visit.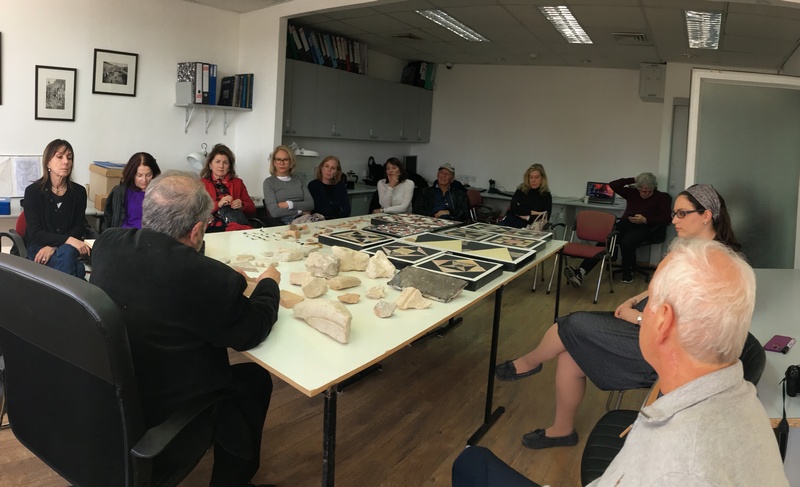 https://tmsifting.org/en/wp-content/uploads/sites/2/2018/04/group-visit-to-the-lab-440.jpg
400
440
Jennifer Greene
https://tmsifting.org/en/wp-content/uploads/sites/2/2019/09/compact-for-enfold-1.png
Jennifer Greene
2018-04-15 16:15:36
2021-10-19 11:26:19
Better Than A Museum