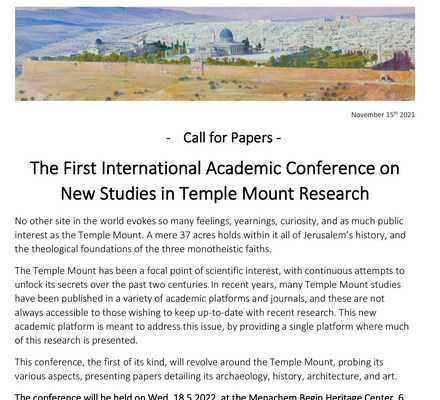 – Call for Papers –
The First International Academic Conference on New Studies in Temple Mount Research
No other site in the world evokes so many feelings, yearnings, curiosity, and as much public interest as the Temple Mount. A mere 37 acres holds within it all of Jerusalem's history, and the theological foundations of the three monotheistic faiths.
The Temple Mount has been a focal point of scientific interest, with continuous attempts to unlock its secrets over the past two centuries. In recent years, many Temple Mount studies have been published in a variety of academic platforms and journals, and these are not always accessible to those wishing to keep up-to-date with recent research. This new academic platform is meant to address this issue, by providing a single platform where much of this research is presented.
This conference, the first of its kind, will revolve around the Temple Mount, probing its various aspects, presenting papers detailing its archaeology, history, architecture, and art.
The conference will be held on Wed. 18.5.2022, at the Menachem Begin Heritage Center, 6 Sh. A. Nakhon St., Jerusalem, and will be simultaneously broadcast on the web.
Papers presented at the conference will eventually be published in an accompanying volume, in a format that will be decided upon a later date.
Scholars are requested to submit a proposal (up to 500 words) for lectures to be presented at the conference. All lectures will be presented with an accompanying paper, in Hebrew or English.
While we aim to gather the most up-to-date research regarding the Temple Mount, we are also willing to accept papers that were already published in scientific journals in the past two years (since Jan. 2020). However, rather than to re‑publish these, the accompanying volume will contain an abstract and a link/reference to the original publication.
Final Date for lecture proposals: 15.01.2022 | Final date for accepting papers: 20.3.2022
Please submit your abstract to: templemountstudies@gmail.com
The Academic Committee: Dr. Gabriel Barkay, Prof. Shimon Gibson, Prof. Yosef Garfinkel, Dr. Katia Cytryn-Silverman, Dr. Eyal Davidson and Mr. Zachi Dvira.                    
https://tmsifting.org/en/wp-content/uploads/sites/2/2021/11/fi-new-studies.jpg
400
440
Zachi Dvira
https://tmsifting.org/en/wp-content/uploads/sites/2/2019/09/compact-for-enfold-1.png
Zachi Dvira
2021-11-16 11:17:30
2021-11-16 11:17:57
– Call for Papers –