Find and Finder of the Month: Robert Kolb found a Spindle Whorl with a significant number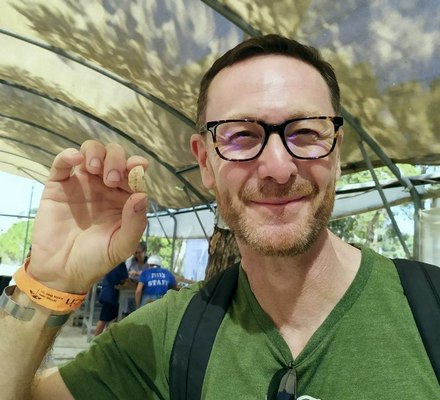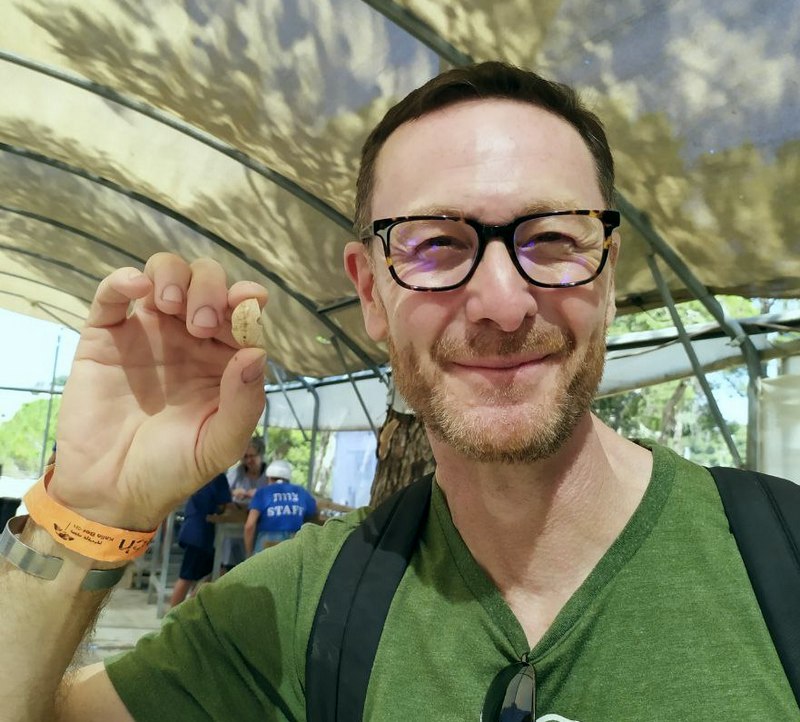 Our latest Finder of the Month is Robert Kolb, a retired US Army officer. Robert tells us that he "was so excited to have played a small part in helping us understand the history of this amazing country. I had just arrived from America less than a month ago, and this sifting project helped convince me to take classes at the Hebrew University – I am now studying to become a tour guide!"
The particular piece of history that Robert found was a fragment of a spindle whorl, made from bone and carved with an intricate design.
What is a spindle whorl you ask? Well, it's a little round piece that gets attached to the end of a spindle. And what is a spindle? Basically, a stick to which one can attach some fibers, such as wool or flax, and as it spins, the fibers are spun into yarn. There's only so much "spin" you can get out of a stick, which is why one side of the spindle was weighed down by a whorl, to assist in the whirling.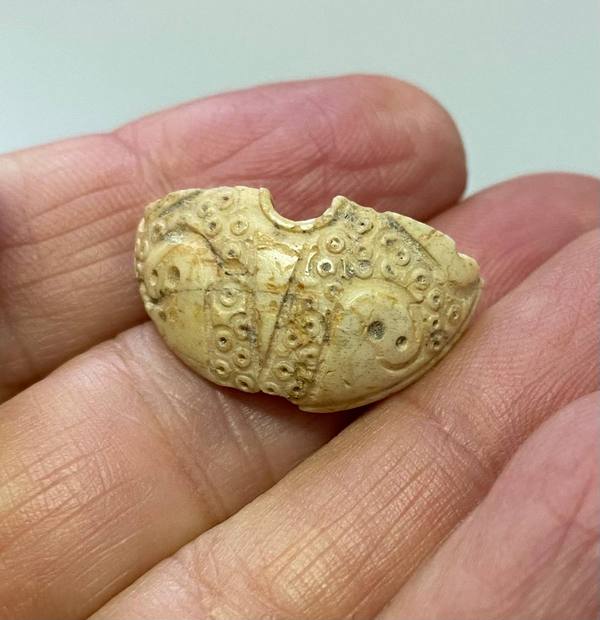 Whorls were manufactured from varied materials for millennia, and they were sometimes plain and sometimes decorated. This particular example, with its intricate design, probably dates to the Late Roman or Byzantine period (possibly a bit later).
But there's another reason we're excited about this find. Anyone who ever takes part in an archaeological excavation soon finds out that a huge part of the work is the meticulous registration of all finds. Each special find gets its own number, as does each basket of ordinary finds (you know, it's been several decades since anyone really used baskets and not buckets, but the name stuck). This particular spindle whorl was registered under the number 120,000!
Our current data includes:
22,362 special finds, such as coins, arrowheads, figurines, jewelry, seals and many more types of special finds.
22,188 daily baskets – During each day of sifting, the finds are collected into six buckets: pottery, bones, glass, metal, mosaic and worked stones.
75,450 records of item collections – when the daily baskets are sorted, the six categories are further subdivided into categories of common finds. For example, "pottery" is divided into rims, indicative pottery, oil lamps, roof tiles, kiln fragments, water pipes, smoking pipes, glazed wall tiles, etc.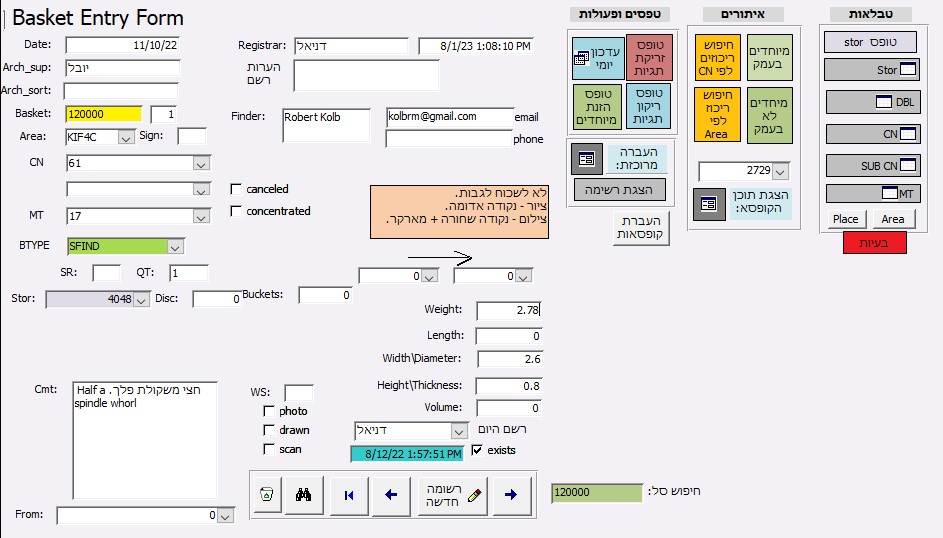 When put together, these records comprise about 1.6 million artifacts which are being stored, preserved, and studied. About half a million of them will be used in our final publication, and the rest will be preserved for future researchers.
It is a Jewish custom on a person's birthday to wish that they live to see 120 years. This is our 18th year, and as we pass 120K finds, we wish our friends and ourselves many more exciting discoveries.
Just like the spindle would take many short fibers and spin them into one strong yarn, which could then be woven into beautiful tapestries, so can we, with this plethora of finds, start seeing some very significant statistics, which will paint quite an interesting picture. Stay tuned!
https://tmsifting.org/en/wp-content/uploads/sites/2/2023/01/KOLB-WHORL-fi.jpg
400
440
Daniel Shani
https://tmsifting.org/en/wp-content/uploads/sites/2/2019/09/compact-for-enfold-1.png
Daniel Shani
2023-01-10 13:11:25
2023-01-10 13:11:28
Find and Finder of the Month: Robert Kolb found a Spindle Whorl with a significant number